ACA Homepage 2012
Fly Casting World Championship 2012- Fagernes- Narrated by Steve Rajeff on YouTube:
---
US TEAM WINS 3 GOLD AND 2 SILVER MEDALS- WORLD FLY CASTING CHAMPIONSHIPS in NORWAY
Steve Rajeff earned gold in Trout Accuracy and Sea Trout and a silver in Trout Distance, Travis Johnson won a gold in the 15ft Spey Distance! Donna O'Sullivan won a silver in the 16ft Spey Distance event.
---
A Farewell to Dick Fujita
Dick past away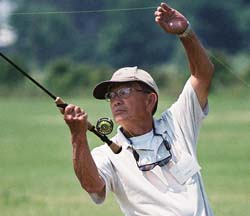 at the age of 86 after battling long illnesses. Dick was a beloved friend, competitor and mentor to such casters as Steve Rajeff and many others. Dick is a Member of the ACA Hall of Fame and the International Casting Hall of Fame. Dick appeared 7 times on the ACA All American Team. He holds the ACA Senior Men's 7.5g Plug Distance Record and shares the ACA Senior Men's Trout Fly Accuracy Record with Zack Willson. Competing in his fifteeth consecutive National, he won All Distance Plug Senior Men in 2004 and 3rd in All Distance Senior Men in 2005. His nephew Robert Henry Fujita would like to share a note with the ACA casting community. The Fujita family casting dynasty includes Dick's father and Hall of Fame Member, Henry Fujita Sr. and Dick's surviving brother Henry Fujita Jr. Our condolences to the Fujita family. A luncheon memorial was held at the Nationals in Cincinnati on Friday, August 3rd.
---
Lu Ann Johnson Heads Successful Youth Program
Her first program casts on Thursday nights at Blue Grass Sportmen's League, Sunday afternoons at Anderson County Sportsmen's Club, and Lu Ann went to the Bullitt County Rod & Gun Club in early June to work with these kids.
The League of Kentucky Sportsmen Annual Convention was the 8th thru 10th of June – She invited all 9 district federation directors and officers out for a clinic on the youth casting and .22 rifle programs. She have been so successful, she's bringing young casters to the ACA Nationals in Cincinnati next week!
---
The ACA Board of Directors has approved this landmark tool to help qualify team members for competition and to receive financial, training and equipment support. The qualification is based on casting scores in respective divisions and offers corresponding levels of support. This will help with travel and event fee costs and enable our team to participate internationally. Also, it's essential for the sport to recruit and train young athletic potential champions. Please support the US Casting Team with your donations.
---
ICSF Accuracy Events Clinic- May 18th.: Scores
Cincinnattti Casting Club Tournament- Distance Results
Canadian Championships Results- Harvey Beck Wins
---
2012 ICSF World Championships- Tallinn, Estonia
Deadline for registration is July 15th.
---
2012 ACA Nationals Hosted by the Cincinnati Casting Club- July 30th- August 4th Schedule, Registration Form, Press Release
To receive the "Cincinnati Casting" group rate of $85 a night, please call (513)-825-9035 by June 30th!
For information on everything in the area imaginable, visit Cincinnati USA
Cincinnati Casting Tournament 6/16- 17th- Directions and info
Invitation to 52nd International Stockholm Games 2012 Vallentuna Airfield, June 9-10
---
Invitation to the 2012 Canadian Casting Championships
This year, our West-Hill, Scarborough, Toronto and St. Catherines member clubs will joinly run the 36th Annual Canandian Casting Championships. Accuracy will be held on Saturday, June 9th and Distance events on Sunday, June 10th. The event will be held at the Scarborough Civic Center and hosted by Toronto Sportsmen's Association. For info, email Peter Edwards.
Greater Cincinnati Open June 16-17th- Details
---
2012 Spey O Rama Results
ACA Jimmy Green Memorial Award Winners:

Our New ACA Member Club- Rio Salado Casting Club
Tempe, Arizona-Opening Demo event April, 7-8th Details!
---
Jimmy Green International Spey-O-Rama Registration
The World Championship of Spey Casting hosted by: The Golden Gate Angling & Casting Club: Thursday, April 19– Sunday, April 22, 2012
1st ISCF Practice Camp Completed!-read more