US CASTING TEAM
---
Donate to US Casting Team
US Casting Team Support Policy
ICSF
Emerald World Masters 2006
---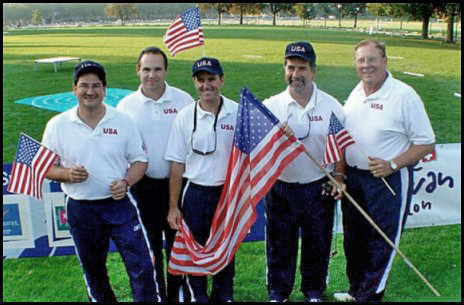 International Casting Sport Federation WC
The ICSF organizes World Championships every two (even) years. European Championships, All-A Championships (Asia, Australia, Africa, and America, i.e. everyone but Europe), Junior and Senior (50+, 60+) World Championships are held in odd years.
Past Events:
2016 WC in Flycasting
2015 ICSF
2014 WC Fly in Casting
2013 ICSF Halle
2012 ICSF Tallin
2010 Stockholm Invite
2010 ICSF World Championships
2008 ICSF Krakow
2007 EU Championships
2007 Veteran World Championships
2006 ICSF World Championships
2004 ICSF World Championships
Casting in the World Games
The ICSF was also a member of the International World Games Association (IWGA) until casting was removed as a world game sport after 2006. Casting was part of the World Games, which are held every four years in the year after the Olympic Games.The 2006 World Games were held in Duisburg, Germany. Steve Rajeff and Henry Mittel performed well as the North American contingent. The casting events were from July 22nd through 24th. Three events were cast: Fly Accuracy, Single-hand Fly Distance, and 7.5 gram Plug Accuracy at the Arenberg target. There was a preliminary round on day one (July 22nd), quarter finals on day two, and semifinals and finals on day three. This format is quite different from that used at World Championships.
Casters from these countries participated in 2006:
Austria (2 women, 3 men)
Croatia (1 man)
Czech Republic (2 women, 6 men)
Germany (3 women, 6 men)
Japan (2 men)
Lithuania (1 woman, 2 men)
Poland (2 women, 4 men)
Slovakia (2 women, 3 men)
Slovenia (2 men)
South Africa (1 man)
Sweden (2 men)
Switzerland (3 men)
United States (2 men)