ACA Homepage Archive- 2009
---
2010 Scarborough Casting Championships Scores
---
ICSF World Championships- Results
---

Starting Top- Lt to Rt: William Clements, Orville Hansell, William Burke, Andy Statt, Beth Statt, Jay Klenk, Elmer Bergendahl, John Field, (Thorgeir Guvtavsen ISCF Instructor), David Roberts, Peter Edwards, Gus Beushausen, John Seroczynski and Patrick McFadden
---
Announcing New ACA Club: Sunshine State Casting Club
We are pleased to announce the formation of the Sunshine State Casting Club (SSCC). This club will offer ACA fly and plug casting for the first time in over 40 years in the state of Florida! We hope our IGFA/ACA Tournament last year rekindled that longing!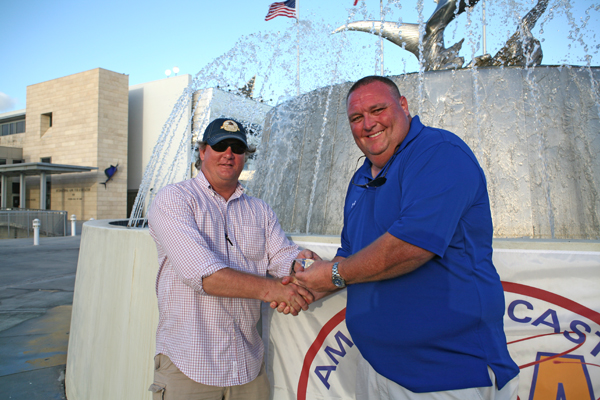 SSCC's first event will be a 5 wt Combination Accuracy and Distance Event, under ACA rules, to be held on Saturday, October 24th on the grounds of the Celebration Ramada Resort in Orlando.  This first event will be in conjunction with the Annual Conclave of the Florida Council of the Federation of Fly Fishers.  We appreciate the Florida Council's assistance in planning this inaugural event for SSCC.
Redfish Landing in Ruskin, Florida serves as the host location for the SSCC.  A club business meeting is scheduled on June 27th.  Subsequent event schedules will be announced via email to club members or here.
Club officers include Walt Hoover, PhD, serving as President (shown on left shaking hands with ACA President, Patrick McFadden).  Walt resides in Boca Raton, Florida, is an ardent caster and member of the ACA and Federation of Fly Fishers (FFF).  He is a Postdoctoral Research Fellow - Center for Complex Systems and Brain Science at Florida Atlantic University, and a member of the Society for Neuroscience.
Capt John Hand serves as Vice President and Leslie, his wife, serves as Treasurer.  They are the owners of Redfish Landing in Ruskin, Florida. John is a member of the ACA, FFF, and the Florida Guides Association. He is a U.S. Coast Guard licensed Captain, an Orvis Endorsed Guide, and a FFF Master Certified Fly Casting Instructor.
Dusty Sprague serves as Director At Large.  Residing in North Port, Florida, Dusty is a member of the ACA and FFF.  He is a FFF Master Certified Casting Instructor, a member of the FFF Casting Board of Governors, and serves as chairman of the FFF Florida Council Casting Committee.
With a small initial cadre of members SSCC's goal is to grow membership through promoting the sports of angling and casting.  If you would like to become a member or want more information about the Sunshine State Casting Club contact Walt Hoover, 561-371-0299;  Capt John Hand, 239-842-7778;  or Dusty Sprague, 941-468-1467.
---
Kentucky Open Results-
Dave Roberts Wins Grand All Around!
---
---
2009 ALL AMERICAN TOURNAMENT-Results
In the coveted All American event there was just 1 point between the top three scores with Zack Willson winning out as the 2009 All American with a score of 98 points and Bill Burke on his heels at 97 points
Just hours before the scheduled start of the All American Distance events the rain quit and Mother Nature decided to look favorably over the tournament's Distance events cast in Valparaiso, IN.
With very light wind, very damp air and a light North West wind the Distance events went off without a hitch. With casters attending from Kentucky, Ohio, Michigan, Indiana and Illinois the competition was quite close in most events with Bill Burke landing a Ford Van with his 2-Hand Spinning outfit. We figure the plug came to rest about 700 feet from the casting box but a bit out of court. You just can't beat those BBB distance spools Bill makes.- John Seroczynski
---
Announcement:
ACA Board Accepts BGSL 2010 Nationals Bid!
Lexington, KY- The Blue Grass Sportsmen's League Casting Division will be hosting the next Nationals on August 2-7th 2010. This will be their 7th time hosting the Nationals! The distance field will be at Masterson Station Park (same as in 2004), and the accuracy events will be held in Wilmore at the BGSL casting ponds. The host hotel will be the Crowne Plaza Lexington- The Campbell House. Book with special ACA rate HERE!
---
2009 Nationals- Toronto Sportsmen's Association
Schedule and DirectionsUpdates! Nationals Registration Form

Mississauga, Ontario, Canada's sixth largest city, is the destination for this year's ACA National Casting Championships. They will be held this August 3-8, 2009! Pete Edwards, Executive Director, TSA, says, "Please plan on being with us, as the cost to compete and join us will be one of the lowest ever."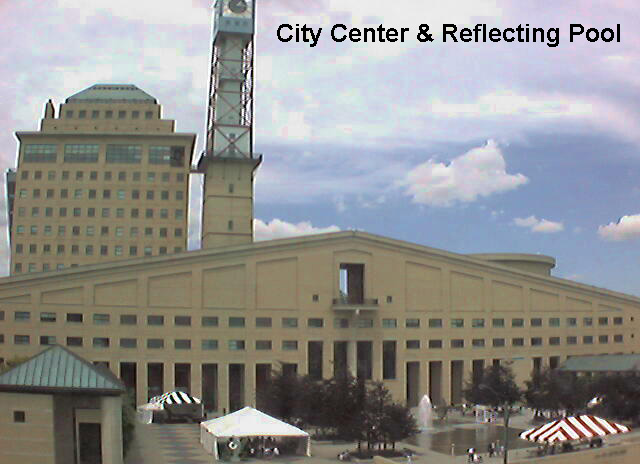 The host hotel is the Four Points Sheraton Meadowvale, located near the events. This hotel which was recently renovated, has everything you could ask for, plus is located 20 minutes from the Toronto Airport. For reservations call, (800)-368-7764 and mention ACA Championships for this special low rate. (Book on-line)
The Accuracy Events will take place at the City Center Reflecting Pool right outside the Mayor's office. Mayor Hazel McCallion, to whom we owe many thanks, has opened free parking for us under City Hall. Link to YouTube- Welcome to Mississauga. The Distance Field is at the Courtneypark Cricket Pitch. (Directions) The Host Sponsor is Canadian National Sportsmen's Shows. They are an essential part of making this event possible.
The Toronto Sportsmen's Association is offering their invitation for ACA Members to come and accept, "...some of the gracious hospitality that so many of the Clubs and casters have extended to us."
---
Jimmy Green International
Spey-O-Rama & Fly Casting Festival
April 17th-19th, 2009 Results
GGACC would like to thank everybody who came to Spey-O-Rama this year, it was a lot of fun and perhaps we were a little too blessed with the hot weather.
What a tremendous competition by both men and women, the level of competition is raised way high this year!
img src="../photos/images/home-page/09-sor-jg-award.jpg" alt="" width="334" height="248" class+"imageLeft"Knut Syrstad & Gordon Armstrong were awe inspiring to hit 170+ in the qualifing round, which was simply magnificient! Knut, that amazing Viking wants to come back next year and cast 180+... won't that be a sight to see? Let's hope his health will hold up so he can be back in 2010.
Sunday was extremely hot and still with absolutely no wind, so it was very tough condition for even the best casters from around the world. Simon Hsieh (above in orange T-shirt holding ACA Jimmy Green Award) won by being consistent with all four casts, beating out the competition who made mistakes with at least one of the casts.
A big congratulations for Whitney Gould (above left- holding her ACA Jimmy Green Award),  who cast so well and deserved to win big this year. Very well done! All the ladies cast so well and were in the 85 to 117 ft range. This year's record breaking longest cast of 117, is 11 ft more than 2008, simply tremendous! - Donna O'Sullivan