ACA Homepage Archive- 2008
---
---
---
Chicago Casting Club "Dual-Tournament"
Chicago Angling & Casting Club- will host a dual tournament on THE SECOND WEEKEND OF SEPTEMBER, the 13TH. & 14TH. It will feature ACA and ICSF events. As in the recent past, because of distance field availability, the distance events WILL BE CAST IN VALPARAISO, IN. AT THE IVY TECH CAMPUS 3100 Ivy Tech Drive, 46383- just west of the Valpo Airport. (Full details)
LBCC Grand Reopening BBQ, Potluck, & Fundraising Auction Sat., Aug., 23 at Noon!
Long Beach Casting Club- The celebration will include an open house, lunch, fundraising auction and special activities. The club will give thanks to all the generous, dedicated volunteers who helped bring back this wonderful building from it's tragic fire. Part of the celebration will include grilling delicious hamburgers & hot dogs and serving ice cold sodas & bottled water. Please bring a dish to the potluck and don't forget the serving utensil if needed.
In addition to the Silent Auction of more than 130 donated items and services worth more than $23,000, there will also be some gently used fishing items for sale from the estate of Art Murphy and Huber's Hackle Haven, and, a great custom knife by Larry Albach that is being sold with raffle squares. Auction Item List
---
Cincinnati Results
July 12-13th- Highlights: All Distance went to David Roberts, All Accuracy went to Zack Willson, All Fly Accuracy went to Zack Willson, All Plug Accuracy was a tie between Zack, David and Andy Statt.
There were 18 casters from Oh, Scarboro, New York, Kentucky, Illinois, and Indiana.
The distance field was a muggy 91 degrees, and over night a storm came through and the weather for the accuracy events was a very pleasant 75 degrees with low humidity. Scores
---
Oakland Casting Club Celebrates 50 Years at McCrea Park!
Oakland, Ca- On Sunday June 15th, OCC re-dedicated opening of the ponds with a tournament and a ceremony. On June 22nd, OCC welcomed friends and several Past Presidents to a party celebrating past accomplishments, history and members. They gave remembrance to John Soininen, President in 1958 when the ponds were dedicated, whose memorial plaque hangs on the rod rack. Longest active member Chris Korich gave a talk about the past members and their accomplishments. Oakland held National Tournaments in 1990 and 1996 and will co-host them again this year with GGACC! OCC History
---
Canadian Casting Championships Results!
Toronto Ontario, Canada- On behalf of your hosts The Toronto Sportsmen's Ass'n and Westhill Anglers & Casting. I would like to thank everyone for coming and enjoying our great weather and fine hospitality.
We had a good turn out for our Canadian Championships this year. We appreciate our American friends who came north to cast. Special thanks to all who judged, scored and tabulated things for us.
We hope everyone enjoyed themselves.
Peter Edwards.
Executive Director
Toronto Sportsmen's Association
Grand All Around Position Placing- June 14-15th.
.
Accuracy
Distance
Total
Harvey Beck
7
7
14
Charles Phillips
9
13
22
Dick Fujita
18
16
34
---
Oakland Sponsors Special Award at Nationals!
The Oakland Casting Club will sponsor a special award at this year's National Casting Championships in San Francisco. The prizes for this additional competition will total no less than $1000. The yet-to-be-named special award is a team award. Scores achieved by team members during their regular competition rounds are used to rank the teams. Casters' scores are compared to scores of casters in the same division. Hence, casters in all eligible divisions can make valuable contributions towards a team's total score. The Oakland Casting Club invites other sponsors to add to the prize money – possibly in exchange for the naming rights of this award. The rules for this special award are almost identical to those used in 2006: Rules
---
New Ground Rule at 100th National for Distance Events- The"V" Court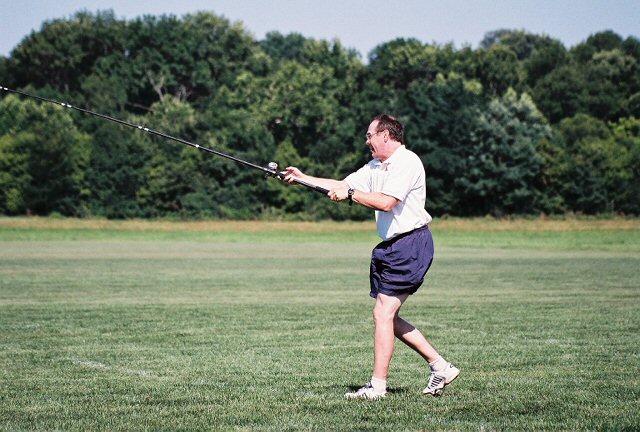 By approval of the Executive Committee, a new "V" shaped court ground rule will be used at the San Francisco 100th National Championship. The "V" court allows tournament organizers the ability to utilize smaller fields, allowing courts to be situated closer together. Distinct sidelines provide for a greater degree of safety for spectators and casters alike. The sidelines define the field such that casters and spectators may be allowed closer viewing by standing outside the sidelines. The smaller "V" court design significantly speeds up pegging and measuring of casts, thus speeding up the total time needed to run an event.
The court size is 50 meters wide at 100 meters out (down field), approximately creating a 30 degree "V" wedge. Court direction will be established directly with the wind just prior to initiating the event. Once set it will remain the same for the entire event. This plays into the strategy of casters to make a stronger first effort with the wind direction in the first round, hedging their concern for subsequent casts should the wind shift to an out of bounds direction. While a V shaped court has been an option under current rules, many casters are unfamiliar with it making this announcement a "heads up" for them. The "V" court were utilized during the Kentucky Open, May, 17 & 18, 2008.
---
2008 National Casting Championships Registration Form HERE!
First 100 Registrants Receive a Commemorative Tackle Bag! This is our 100th National!
The opening ceremony, annual meeting will be held at the GGACC clubhouse and the banquet will be the nearby Irish Cultural Center on Sloat Blvd and the Great Highway. Hotel info here. For further questions contact Alice Gillibert. Dates and Schedule
Great Events at GGACC this Month:
Free Casting Lessons: 07/12, 9:30 am to 12:00 pm at the GGACC Angler's Ponds- RSVP
Free Beginning Fly Tying class: 07/19, 1:00 pm to 4:00 pm- RSVP
Pasta Feed, Meatloaf Dinner, and Spey Equipment Auction: 07/19, 6:00 pm to 9:00 pm -- (see auction items)- RSVP
ACA Casting Tournament: 07/20, 9:00 am to 3:00 pm- Dry Fly, #5 Combo, 5/8 oz, Angler's Fly- RSVP
We'll see you at the club!
---
2008 Jimmy Green International Spey-O-Rama Results
Men's Division 1st Place: Simon Hsieh and Women's Division 1st Place: Takako Inoue
Casters came from all over the globe: Norway, England, Scotland, Japan, Canada, Pacific Northwest and California to participate in this fun, educational and competitive event. This year's entertainment featured Luau dancers! During Saturday's qualifying round there were swirling winds around 20mph, with gusts up to 40 MPH. Despite the challenging conditions, the casters performed very well.
There were 11 Men's Finalists and 5 Women's Finalists. Simon Hsieh had the Men's long cast of 153' and the winning total score of 560 and Takako Inoue had a total score of 408 and made the longest Women's cast of 106'. The Division winners also earned the ACA Jimmy Green Memorial Award, (that Simon holds above his head at left). The second and third Place Mens's casters were Doug Duncan with 540 and Simon Gawesworth with 538 (505). He tied with Brian Stystal, but won second place by one foot with his second best casts total! In the Women's Division, Donna Sullivan took second place with 374 and Olga Koran had 350.
None of the three Women finalists are taller than 5'2", but they made seven casts greater than 100-feet! At the 2007 SOR, Amy Hazel made the first ever 100-foot Spey-O-Rama Women's cast.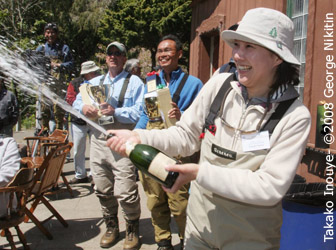 According to Bob Pauli, "Simon Hsieh faced a mini-crisis during his championship round, when the fly departed his leader during the two minute warm up period allocated to all contestents prior to the six minutes allowed for scoring casts. Without a fly, a legal cast cannot be made, and time continues to run.
Obtaining another fly [all are supplied by the GGACC competition committee] and attaching it to his leader occupied the remaining 1.5 minutes of the warm up period and precious seconds of his 6-minute scoring period which immediately follows warm up." With equipment repaired, no warmup and a shortened scoring time, Simon pushed ahead. His first two or three casts for score were below his normal performance level, showing the unexpected delay has rattled him. But he pushed his anxiety into the background, regained concentration and became SOR 2008 champion."
This year, there were no Skagit casters competing. It is our understanding that the hot set-ups were 75-85' heads with B&W Powerlite, CND and Nextcast rods. Follow this exciting event HERE and make your plans early for next year.
---
Announcing: The Greater Cincinnati Open Tournament
Distance Events July 12th: will be held at Waycross Elementary School at 825 Waycross Road on Saturday morning at 8:30. 
Please contact Andy Statt for distance details-  (513)-899-2668.
Accuracy Events July 13th: will be held at The Cincinnati Casting Club 2200 Pinney Lane.
The Cincinnati Casting Club is located off US 127, approximately 3 miles north of Mt Healthy in Turner Park, 2200 Pinney Lane, New Burlington, Ohio.
Program of Events, Directions, Hotels
---
2008 Kentucky Open- Harvey Beck Wins Grand All-Around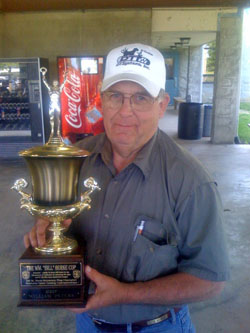 Lexington, KY- This annual event is run by the Blue Grass Sportsmen's League's Casting Division and was held last weekend; May 17 & 18th. Harvey Beck of Toronto, took all the All Arounds, except "Fly Accuracy Champion" which was won by Richard Siciliano of Buffalo, NY. Harvey had some impressive distance scores in Men's.
During the distance events, there was some helpful wind, but the trade-off was a terrible cross wind. On Sunday, swirling winds caused terrible scores.
John Seroczynski of Valparaiso, IN, won the "Bill Burke Cup" as the "Senior" casting the top 5/8oz. score during the regular event. The cup was started in 2002 in appreciation for Bill Burke's work for BGSL. It is a perpetual trophy. In Bill's email today: "I am so thankful that it is not a memorial trophy."
Past winners are:
Bill Peters (2007)
Ed Lanser (2006)
Zack Willson (2005)
Bill Burke (2004)
Zack Willson (2003)
Scores
Long Beach Casting Club Asks Your Help!
To fully restore the clubhouse, due to the recent fire, the club has to raise a lot of money. Monetary donations will be gratefully accepted, and those over $75 will be acknowledged according to IRS rules for tax-exempt non-profit organizations. Please make your check payable to the Long Beach Casting Club Rebuilding Fund and mail it to P.O. Box 90035, Long Beach, CA 90809-0035.
Donations to a fundraising raffle will also be appreciated, as will volunteer labor. For information about other donations, please contact Carole Katz at (714) 731- 6044. Thank you! (Flier pdf)
---
Lexington Kentucky's Blue Grass Sportmen's League invites all ACA casters to the best warm-up for the Nationals! This event will be held at two locations: distance events at Kentucky Horse Park- John Henry Polo Field and accuracy events at the BGSL casting ponds. This year's dates are May 17-18th 2008.
---
ACA/IGFA CASTING TOURNAMENT A HIT!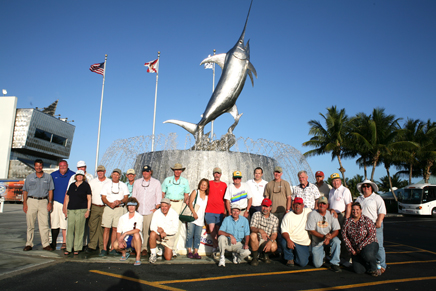 Fort Lauderdale, FL- Casters and spectators from around the country and Canada came to cast and watch this inaugural event in South Florida and enjoy perfect weather in the 80s. There is promise that several attendees will form a new casting club down there! Special thanks go to Beth and Andy Statt, Patrick McFadden and Dave Roberts for their contributions running and equipping this event.
On Saturday Feb. 2nd, Steve Rajeff, Henry Mittel, Pam Peters and Bill Clements put on a great demonstration of casting from an anchored fishing boat at IGFA, while Peter Edwards gave wonderful commentary over a public address system. Steve was also "miked" and described ACA events while casting and demonstrating. Casting great Joan Salvato Wulff and her husband; conservationist and cinematographer Ted Rogowski were amongst the crowd. Another famous caster, Ben Hardesty a former Pflueger Pro, and his lovely wife, accompanied Ted and Joan. IGFA President Rob Kramer and ACA President Patrick McFadden were also present. (Sat. photos)
Sunday Feb. 3rd- Markham Park tested the ACA/IGFA Tournament Committee when they arrived on their rented distance field to find 700 uninvited automobiles; due to the unexpected popularity of a nearby 5K run. After delays, the event moved to another location, although it seemed evident the problem caused losses in attendence. Henry Mittel won the day's first event of 1/4 oz Plug Distance in Men's, Pam Peters in Women's and Bill Clements in Seniors. In Angler's Fly Distance, Steve Rajeff took a first, Pam and Bill also took gold in their Divisions. In Two-Hand Fly Distance, Steve surpassed Henry by 4 feet in the second longest cast after tying in the first longest of 267 ft.! Bill won Seniors and there were no Women entered. (Sun. photos)
Monday Feb. 4th- at Tiger Tail Lake Center was a picturesque scene with the sand beach and palm trees. It started with Bass Bug Accuracy in which Steve Rajeff took first place in Men, Walter Hoover won Men's B, Bill Peters won Seniors and Pam Peters won Women. 1/4 Oz. Accuracy was won by Henry Mittel, Bill Clements and and Beth Statt in their Divisions. 5/8 Accuracy winners were Steve, Bill, and Pam. After a quick move back to IGFA, we cast the 5wt. Combination Acc. & Dist. Event.
Steve Rajeff beat Henry by a narrow margin in Men A, Walter Hoover took Men B, Ed Lanser and Bill Clements tied for first in Seniors and Pam Peters took first in Women. (Mon. photos) (Scores)
---
2008 Southwestern Tournament Cancelled
LBCC Tournament Captain Mark Lipe has announced that due to the circumstances related to the clubhouse fire on Dec. 2nd., this annual event has been cancelled. Please visit the Long Beach Casting website for official information regarding meetings, dates, activities and class schedules.
---
The ACA/IGFA CASTING TOURNAMENT- Feb. 2-4 2008!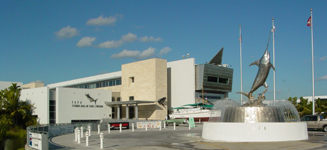 Dania Beach, Florida- If you want to cast in the warmth of southern Florida this winter and get some great fishing in too, this event is made for you. We'll be showcasing our best casters in exhibition cast-offs on the IGFA pond amidst crowds from adjacent Bass Pro Shops and Islamorada Fish Co. Restaurant. Next, we'll be running seven ACA events over two days.
As you may know, there hasn't been a Florida ACA Member Club in decades. This event will hopefully re-introduce casting to a new generation of enthusiasts who might enjoy our sport. This ACA Registered Tournament will be run with the help of our Chicago, Cincinnati and Lexington clubs. In addition, we've had a great response to help out from our FFF friends like: Master Instructors Gordy Hill, Dusty Sprague and Bruce Chard. (Registration Form) , (schedule) & (Google Map).
Motel 6 Dania Beach- has given ACA a special rate of $80.99/single, $86.39/dbl; if booked by Jan 1st. Call 1-800-466-8356 and mention code M376000060 (for Dania Beach)