Homepage Archive 2014
---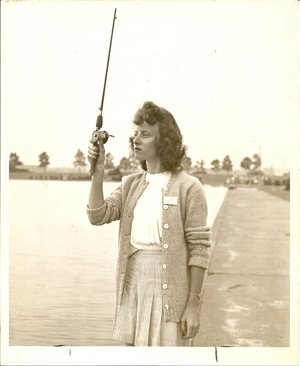 Mollie Light 1927-2014
ACA National Champion Mollie Light passed away on December 10, 2014. Mollie is the daughter of ACA Hall of Fame member Bob Budd. Originally from Jeffersonville, IN, in later years she cast only in the East. Mollie is survived by her three children, numerous grandchildren and great grandchildren. (Details)
Mollie at casting tournament in Detroit on August 25, 1945.
---
2014 NATIONALS- Results
---
2014 Kentucky Open- Results
---
World Championship in Fly Casting 2014- Invitation
Fagernes, Norway 14- 17 of August.
visit WC Fly Casting for updates
---
Retirement Announcement: Dale Lanser, Executive Secretary & Darlene Lanser, Treasurer
We all owe a debt of gratitude to Dale and Darlene Lanser, who faithfully served ACA for over forty years in office and have decided they needed a break. The Lansers have housed ACA's Official Supplies in their house and fulfilled our orders for all these years. Darlene has kept the books and prepared our Association annual statements and IRS filings. Dale has driven to almost every National during his service, to provide Tournament Supplies to ACA casters. Thank you both!
---
ACA's New Officers
Due to the expiration of his term limits as ACA president, John Field has stepped down and David Roberts of Lexington, KY has replaced him. Steve Rajeff is our new vice-president. Patrick McFadden has been approved as our new Executive Secretary and Penny McFadden. as our new Treasurer. We will be providing more contact information shortly.
---
105th ACA National Casting Championships Results & Wrap-up!
August 1-4th- Hosted by the Oakland Casting Club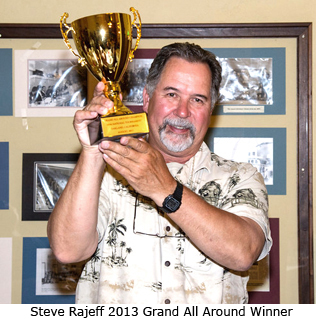 "The Oakland Casting Club hosted the American Casting Association's 105th National Casting Championships this August 1-4th in Oakland, California. Approximately 50 competitors from around the country participated. A 9 year old girl in the Junior Division named Maxine McCormick, who has been training for the last year, cast very well in distance and accuracy events and even matched some scores of the adult divisions! Larry Allen a retired dentist from Arizona, wowed the field by winning eight Men's medals and placed third in the Grand All-Around. He owes much of his success to his physical conditioning and year round practice. We wish him continued success as he heads for the international championships in Halle, Germany next month.
Steve Rajeff won his 38th Grand All Around by winning nine gold and three silver medals and all of the Men's combination awards at this National. Henry Mittel placed second in the Grand All-Around and Angler's All Around, took two gold, five silver and three bronze medals. We also wish him great scores in Halle, Germany! In the All-Angler's Combination, Elaine Gong won in the Senior Women Division, Nicole Kozicki won in the Women Division and Tony Ramirez in the Senior Men Division."- JF
---
Henry Mittel Earns Gold Medal at World Championships- Places 9th Overall: Official Results
Kentucky State Open Casting Championships Results
2013 Jimmy Green International Spey-O-Rama Results and Story