ACA Legend Passes- Cliff Netherton 1910-2010
ACA Homepage Archive- 2010
Sadly we announce, on December 5th, Cliff Netherton passed away peacefully at his Great Falls, Virginia home at age 100. (Read Cliff's life history here)
---
Cincinnati Open- 6/19/2010 Results
On June 18 & 19th the Cincinnati Casting Club hosted the Cincinnati Open Tournament. The Saturday distance events held at Waycross School were delayed about 30 minutes due to an early morning storm.  Then the sun came out and conditions were a bit muggy till the breeze kicked in.
The Sunday accuracy events went smooth and were finished by 4:30 even after an hour break for lunch.  The weather was 93 with a gentle and persistent breeze to make it really comfortable in the shade of the trees. The pop up shelters provide nice shade, but nothing beats the cool downdraft of a tall oak tree.
Some of the highlights of the accuracy tournament include Phil Seroczynski making his fly casting debut in Dry Fly. Way to go Phil!!!  Dick Fujita shot an amazing 99 in dry fly barely missing the 7th target.  At lunchtime Pam was thrilled to have beaten the guys to win Fly Accuracy with a 281 inching out Jay Klenk with one point. Zack won combined plug accuracy and overall with a combined score of 563.  Andy and David were close with 560 and 558. (Scores)
---
Invitation to the World championship in Fly-Casting 2010
The first official world championship in flycasting (standard flyfishing equipment) is being held in Fagernes, Norway August 13-15th 2010. We hope to gather flycasters from all over the world for this historical event. Invitation pdf & Rules
If you want to participate, but not sure of who to contact in your country to register your entry, or if you have any other questions, do not hesitate to contact us.
For The Norwegian Casting Federation
Morgan Andersson
Secretary General
e-mail
Tel: +47 21029795 / +47 90984724 (mobile)
Fax: +47 21029003
Norwegian Casting Federation: website
CIPS/ICSF: website
---
2010International Spey-O-Rama Coverage
GGACC would like to thank all the sponsors, vendors, contributors for their generous donations and support for Spey-O-Rama. We also received a very substantial grant from the Golden Gate Angling & Casting Foundation in recognition of the club's ongoing support of Jim Green and its commitment and energy in continuing and promoting worldwide one of his many ideas.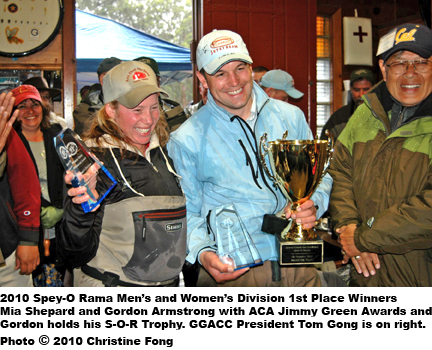 This year's Spey-O-Rama was better than we ever expected, with 30 men and 5 women from Scotland, Ireland, Norway, Russia, Japan, Canada and USA participating in the spey casting competition, which is now recognized as "THE Spey Casting Competition" to win by some of the best casters in the world.
Due to a really cold winter, a lot of the European competitors arrived early to get more practice at the Golden Gate Past casting ponds. I was fortunate to watch these masters and some of our best from the USA, cast on average 150ft and some to 185ft in practice which would have broken the record of 173ft in the qualification round by Gordon Armstrong last year!
Bad weather however, made it very difficult for all the casters in the qualifying round. Gordon Armstrong had the longest qualifying cast of 168ft, which was a little short of his own record in 2010. On Sunday, in pouring rain and wind, Gordon Armstrong made the longest cast of 159ft in the final, just 3ft short of the record of 162ft set by Knut Syrstad in 2010. If it were not for the bad conditions, all records would have be smashed this year! Gordon won the men's competition with the total score for 4 casts of 579ft. Gerard Downey was 2nd with 563ft and Ruairi was 3rd with 558ft. It goes to show that strength, experience and technique saw these incredible competitiors through the worst casting conditions. Congratulations to the Carron Team for sweeping the top 3 positions!
As for the ladies, the level of casting has been raised by an average of 10ft more from last year. Mia Sheppard made the longest cast of 127ft, 10ft better than Whitney Gould's 117ft in 2009, and went on to win the women's division with total score for 4 casts of 464ft. Mia broke both the longest cast and combined casting total scores. Whitney was 2nd with 433ft, and Donna O'Sullivan was 3rd with 422ft. Very impressive casting Mia and congratulations for a well deserved win!
I am certain that the bar will be raised yet again in next year's competition and look forward to witnessing some incredible and record breaking casting in 2011!
Mens' Scores
Women's Scores
---
Casting Legend Cliff Netherton Celebrates 100th Birthday!
In a phone conversation on May 24th 2010 with wife Cliff Netherton's wife Jean, she reported our dear friend Cliff had a calm but special 100th birthday with cake and lots of cheer!
While many of us know of Cliff's accomplishments and contributions well, for those that don't, Cliff is no less than the "Godfather" of ACA and ICF casting. In addition to him authoring "History of the Sport of Casting" versions I & II (see Amazon links and info below), Cliff served as ACA President and in many other roles during his years of active participation and service.
Working closely with Myron Gregory, Cliff founded the International Casting Federation (ICF) in the mid 50's and got the sport of casting recognized by the International Olympic Committee (IOC) back in 1958.
During his term as ICF Executive Secretary, Cliff earned recognition and membership for ICF as the world governing body for Casting sport in the General Assembly of International Sports Federations (GAISF).
Through this GAISF membership, Cliff later followed the development of the World Games (for non-Olympic sports) and made all the right chest moves to insure that Casting would become one of the founding, participating sports at the first World Games in Santa Clara, CA back in 1981. Casting has since participated in 1985, 1993, 1997, 2001 and 2005.
On the individual side, Cliff competed in numerous Nationals and three ICF World Championships as a member of the All American Team, and along with wife Jean, accompanied Steve Rajeff and others including myself to many of our first ICF World Championships. Always present to cheer our successes and support our best efforts, personally, I can say that Cliff and Jean have made the single biggest difference in my casting life.
Let's all give thanks and holler out a HAPPY "PERFECT 100" BIRTHDAY cheer for Cliff Netherton. The sport of casting would never have made it into the 21st century without your tireless efforts Cliff. We are forever grateful.
Chris Korich
Amazon book links:
The History of the Sport Casting, Golden Years- by Cliff Netherton
The History of the Sport of Casting, Early Times- by Cliff Netherton