ACA Homepage Archive- 2006
---
NORTHWESTERN TOURNAMENT RESULTS-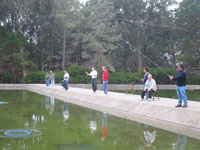 This fun annual event was held Oct 7-8th. at the Golden Gate Casting Club in San Francisco. On Sunday, there were four cast-offs between Chris Korich and Steve Rajeff in Dry Fly Accuracy; Steve cast three games of 100 and a 99. and Chris cast four games of 100 to win! Chris was unable to attend on Saturday.

Steve Rajeff and Henry Mittel were neck and neck in the combined scores. Steve took the All-Around, Henry took second and Keith Pryor third. In All-Distance, it was Steve, Henry and Jay Clark in the top three. In All-Accuracy, Steve, Henry and Tony Yap came in third.

What's special about the Northwestern is the relaxed set of rules and games with A,B, & C Classes and a maximum 2pt. demerit in Accuracy. Unique to this West Coast event is the Open Plug Accuracy (any weight plug, any reel) game, 1/4 Spin Distance (max. 6' 6" rod )- for which most casters use their 1/4 oz. Acc. gear, and Wet Fly Accuracy.

Saturday's schedule of events included: Trout Fly, Bass Bug, 1/4 oz. Acc., Open Plug and Angler's Fly(over water). Sunday's events were: Dry Fly, Wet Fly, 3/8 oz. Acc., 5/8 oz. Acc. and 5/8 oz. Team Accuracy.
(RESULTS PDF)
---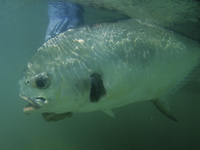 STEVE RAJEFF ADDED AS CONTRIBUTING WRITER-
Capt. Ted Lund, Editor of Fly Fishing in Salt Waters welcomes the most sucesssful tournament caster and one of the best anglers in the world to the magazine's masthead. Steve's mission will be to keep their readers casting on the "straight and narrow". He joins Nick Curcione and Lefty Kreh as their three casting experts.
You can read Steve's first article for FFSWin the September issue. Not only will their readers benefit from Steve's advice, but the readers will get to know how practicing and even honing their skills by competing, can help them get more hook-ups! Thanks Ted for sharing ACA with your readers in Editor's Letter too!
---
WORLD CHAMPIONSHIPS RESULTS-

Last week in Dublin, Ireland, two US casters placed in the top six places of five of 9 individual events, 3 combined and one team event:
Steve Rajeff-
Event 2- Fly Distance Single Handed- Men 5th Place Final (av.) 65.77 M (216 ft).
Event 6- Fly Distance Double Handed- Men 1st. Place Final (Av.) 269 m (269 ft)
Event 8- Multiplier Acc. Men- 3rd. Place
All Around- Men 1st Place with a score of 1081.205
Pamela Peters-Event 9- Multiplier Distance Double Handed-Ladies- 5th Place Final (av.) 57.64 m (189 ft)
(Complete results)
---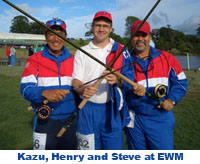 EMERALD WORLD MASTERS-
(EWM is the casting tournament with $250,000 in prize money!) As of 9/4 Steve Rajeff has taken two firsts and a second place so far. His two 1st places were in Trout Fly Distance on Water (7wt) and Trout Fly Accuracy on Water (7wt). Out of a field of 44 he took 2nd. in Salmon Fly Distance on Water with a 171 ft. cast with the equivalent of a 10wt line.
Pam Peters has also done well in the Women's Finals. She took 1st. place in Trout Fly Accuracy on Water and a 2nd in Trout Fly Distance on Water (7wt) with a cast of 85.8 ft. Pam also took 5th place in Spey Fly Distance on Water with a 84.4 ft. cast.
Other US competitors include Henry Mittel, Jay Clark, Kazu Koshimizu, Randy Olson, Jared Mertens and Charles Judy (results 9/2-4) (Photos - from qualifiers)
---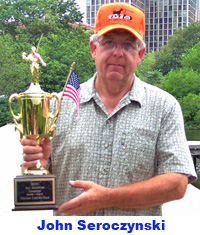 "ALL AMERICAN" TOURNAMENT-
On August 25-26th., the Chicago Casting Club hosted the 56th. Annual "All American" tournament. In addition to the standard ACA 12 event program cast over two days, this tournament includes a very special game, titled "The All American Event", which is a 5/8 oz. Accuracy Event. This unique and prestigious event was originated in 1950 by the Chicago Casting clubs as a group to honor all previous U.S. National Casting Champions; only those who have won Gold medals at past ACA U.S. National tournaments are eligible to compete. Dave Roberts of Lexington, KY was the Grand All Around Champion, and John Seroczynski of Valparaiso, IN won the "All American" Event. (story con't & scores)
---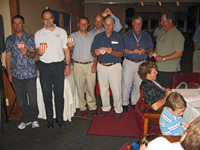 2006 NATIONAL CHAMPIONSHIPS SCORES- IMPRESSIVE!
Long Beach, Ca- Thirteen National Distance Records were broken by great casting in the light air of southern California. Steve Rajeff won the Grand All Around with Henry Mittel very close behind. Casters who earned a place on this year's All American Team (pictured from lt-rt) are; Jay Clark, Henry Mittel, Rene Gillibert, Chris Korich, John Seroczynski, David Roberts and Steve Rajeff.
Steve won the Men's Division Angler's All Around; in Senior Men it was Zack Willson, in the Women's it was Pamala Peters, and in the Intermediates Dustin Revel won with eight firsts. (The top casters are now gunning for the ICSF Championships in Ireland right now!). (National Results) (Photos)
---
2006 ACA HALL of FAME INDUCTEES-
Alice Gillibert and Chris Korich were inducted into the ACA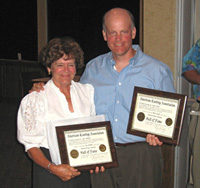 Hall of Fame at the ACA Banquet on August 5th. for their career achievements in casting and service to the ACA.
Alice has appeared once on the ACA All American Team, holds the Women's National Angler's Fly Distance Record, is a past ACA President and inspiration to her son Rene and daughter Nicole.
Chris has appeared 30 times on the ACA All American Team and is a co-holder of the National Men's Dry Fly Accuracy and Bass Bug Accuracy Records. He has also lead an ICSF Championship in South Africa and was involved in bringing casting into the Olympic's World Games.
---
5WT DEMONSTRATION EVENT APPROVED!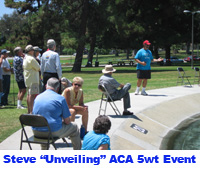 Long Beach, Ca- On August 3rd., the Delegates at the ACA Annual Business Meeting adopted this casting game as a "Special Event" in the By-Laws. Twenty casters also competed in this combination accuracy and distance event at the ACA Nationals that week. Steve won in the Men's Division, Bill Van Natter in Senior Men, Peggy Van Natter in Women and Dustin Revel in Intermediates.

A preview of this new ACA event was also cast at the 2006 FFF Conclave. So far, everyone has enjoyed participating in it. As G.Loomis rod designer and casting champion Steve Rajeff told us, there are more 5 weights owned in America than any other fly-rod. (See Rules)
---

WELCOME a NEW ACA CLUB-
The Colorado Casting and Angling Club, whose Members include: Jeff Wagner- President, Kathleen Wagner, Clay Roberts- Vice President, Sandi Roberts, Rico Moore, Secretary, Jim Tilmant- Treasurer, Hutch Hutchinson, Public Relations- Randi Swisher. This new club is centered around Fort Collins and their first event will be held on September 24th. We wish them good luck.
Jeff Wagner was also instrumental as a member of the new ACA 5wt Rules commit tee. His article about the new event appeared in the August issue of Fly Fishing Trade Magazine p.52. (contact CCAC President)
---
NEW ACA FISHING PHOTO GALLERY-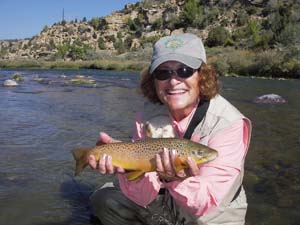 To illustrate the connection between casting mastery and fishing success, we're going to post ACA Member fish photos on our website and in the Creel. We're interested in photos of anglers with trophy sized live fish, photographed where they were landed.

Email sharp digital photos to webmaster@americancastingassoc.org. The files should be jpeg or tiff at 72 dpi. for the web and 180-300 for The Creel. Also please include the angler's name, date and place (or water) caught, the tackle and lure/flies used, and the fish's recorded or estimated, weight and/or dimensions.

The fish in these photos must be caught legally within the last three years by casting artificial lures. No dead fish photos please.The ACA Webmaster or Editor of The Creel will publish any image or story at his/her sole discretion. Please do not send prints or film, for we can't guarantee their return.
---
US TEAM REPORT FROM IRELAND 9/2/06-

(This is the casting tournament with $250,000 in prizes!) Everyone made it here all right. We had the first two events today - single-hand 7wt distance and two-hand 10wt distance. The conditions varied quite a bit. That's especially true for the 7wt distance where the first half of the field enjoyed quite a healthy wind (albeit some rain) from behind and the remainder had much of that wind almost straight from the side. For the 10wt, the wind was steady in its direction, but still had quite some variance in strength.
Tomorrow, we'll have the Spey competition with Scotland, Norway, and England being the big favorites and Ireland hoping to interfere. Other than those four, there are only Poland and the US. We should be able to beat Poland, but catching Ireland will be tough. Our 5 men Spey team will consist of Jay Clark, Steve Rajeff, Kazu Koshimizu, Jared Mertens, and Henry Mittel(Randy Olsen lost a coin toss but will get 1/6 of the trophy).
There is also the Trout Fly Accuracy. It will have the biggest effect on the EWM all-around (Fly all-around and Grand all-around) in which Steve already has a quite commanding lead (Those that came in close to him don't cast all events.) However, with the small targets, long distance, light lines, and the at times very strong wind, no one will be safe in that event. We'll have to see.
Finals of the top 6 were on 9/4. Henry Mittel, Team USA
---
The 25th Scarborough Fly and Bait Casting Championships were held June 3-4th., despite the terrible weather on the first day. Host club President, Gord Deval says the event was a resounding success. Competitors came from as far away as Chicago, Kentucky, Valparaiso and Rochester. The overall All Round Championship was won by Toronto's Harvey Beck, while capturing a fist-full of gold medals along the way. Bill Burke of Lexington, KY scored a 99 in Dry Fly Accuracy and John Seroczynski of Valparaiso, IN won the All Accuracy award. (Scores)
---
LBCC President Carole Katz Has Gear for You to Win and Great items for the Silent Auction!-
There will be a raffle drawing and silent auction at the ACA National Championships graciously hosted by the Long Beach Casting Club.

The first winners will be chosen on Monday, July 31 at the Opening Ceremonies, and then during the tournament on Thursday, Friday, Saturday, August 3-5. At $5 per chance for more than 40 prizes in excess of $50 value, the odds are excellent that YOU could take home a new rod, reel, line, gear bag, etc. No prize will be less than $50 in value, and some are $600 in value. You don't have to be present to win, but if you haven't already bought enough tickets, contact Mark Lipe (List of prizessilent auction items as of 6/27)
---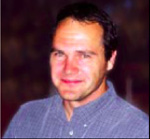 $1,475 "Special Award" Prize Money At ACA National Aug. 1-5th-
Henry Mittel of the Oakland Casting Club has announced that his club will be sponsoring a special award at this years' National in Long Beach, Ca. It rewards the team entered whose members show the most improvement over the previous ACA National winners in each division. Henry can take credit for having conceived this idea. $1200 has come from from the OCC, $225 from the Seattle Casting Club and an additional $50 from OCC go to the second place team.
The naming rights for this award are still available to sponsors! Please (contact) Henry if you or your company would like to sponsor this award or add to it. This prize will add excitement to the event and reward deserving casters. Click (here) to read details about caster and team eligibility.
---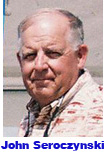 State Records Tied and Broken at llinois State Championships- June 24-25th. The Grand All Around Champion was John Seroczynski, earning him 22 "By-mail"points for this registered tournament. He also cast a new state record in 1-Hand Fly Distance with a distance of 162 feet and tied the standing state 2-Hand Spin Distance record. Dick Fujita of Toledo tied the state record in 1/4 oz Spin Distance. Pam Peters set a new Bass Bug Accuracy state record with a score of 97. The distance events were held on Saturday with favorable conditions but not so favorable conditions prevailed for Sunday's accuracy events. Casters came from the states of OH, MI, MT, IN, KY. and more. (Scores)
---

Tony Yap Wins All-Around Handicap Prize At Oakland Casting Championships-
On May 21St. Tony Yap of the San Jose Casting Club showed that you can't beat experience. However, newcomers Karen Soleau, Nick Valverde and Rich Brown did make some waves. All three hope to compete at the National in Long Beach. (Scores)
---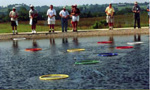 Kentucky Open Casting Championships- The Bluegrass Sportsmen's League of Lexington, KY hosted this fine event May 20-21st. Murphy's Law mandated calm conditions for the distance events where wind helps, but for the start of the accuracy fly events where calm is welcome, there was a 20-40 mph. crosswind! After an immediately course change, the scores rebounded. (Scores)
---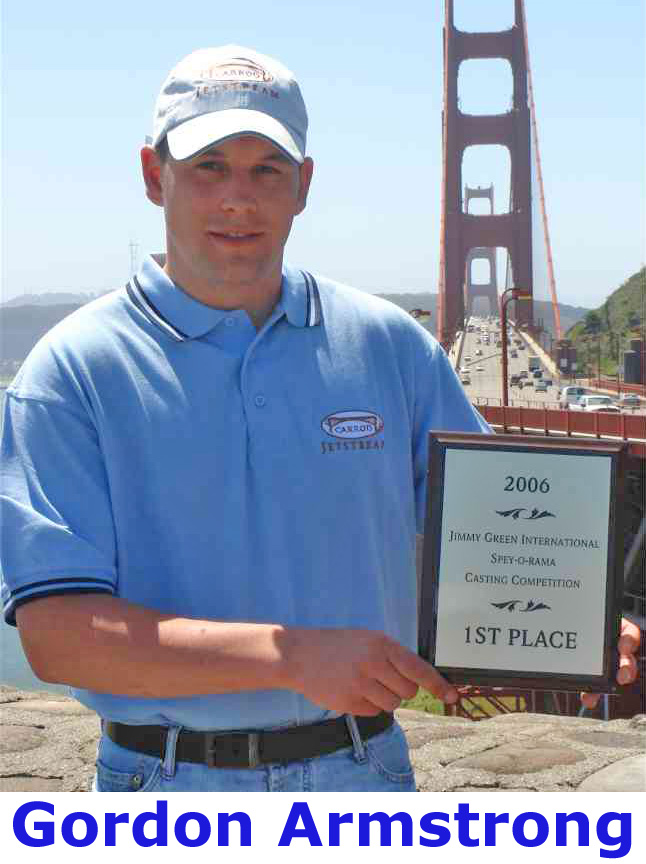 The Jimmy Green International Spey O Rama at the GGACC in San Francisco May 5-7th. was another success. Those who attended said it was awe inspiring to see masters from all over the world reach such distances with two hand fly-rods. There was a tie for first place between Scotland's Gordon Armstrong and Mariuz Wroblewski of the Golden Gate Angling and Casting Club of San Francisco. Mariuz displayed great casting equality between his dominant and non-dominant hand casts!

There were many instructive on the water demonstrations and manufacturer tackle displays. (Scores)
---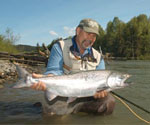 ACA Rod-Blank Changes-
Steve Rajeff, G.Loomis rod designer, is creating some fresh designs for G.Loomis tournament blanks, and decided to stop manufacturing several. On the cancelled list are: Trout Fly , Dry Fly and Bass Bug blanks- ( TF1026, TF1027, TF1089, TF10810). Steve is working to combine the 18 grams distance blanks into one redesigned model. This new model called TD156-18TS will stretch out to 13 feet, and replace the TC135-18 and TC138-18. Now that a leader is required for revolving spool 18 gm distance, the same blank for spin and cast may be used, with a small trim off the tip for the spin to handle the added weight of the large spinning guides. Since many casters requiring a more powerful blank have been using the TF116-36g blank for Angler's Fly, Steve will soon redesign the TF10810 and announce it's new blank number.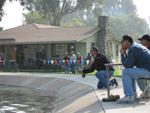 Southwestern Casting Tournament-
was held this February 11-12th. The temperatures were over 80 degrees with light winds. The All Around Champion was Henry Mittel. Henry cast 166' in Steelhead Distance. Chris Korich and Henry tied for All Accuracy. Chris did cast a perfect score in Trout Fly Accuracy and reached 195' in 1/4 Oz. Distance. Jamie Murphy and Matt Rickerd both cast 100s in Dry Fly Accuracy.Results
---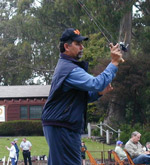 2006 Winter Tournament Results-

The turn-out was good, but the casting was even better! Steve Rajeff took six firsts at the GGACC 1/13-14, and took a first in one out of three events at the ISE San Mateo show on the 15th. Henry Mittel took one at the club and two at the show. Steve missed only three targets in the first six accuracy events. Elaine Gong cast a 96 in Trout Fly at the show, and Dusty Revel cast a 92 in Trout Fly. Also check-out Francois "Frenchie" from the SJCC. He's 13 and won the juniors division of the Best of the West 5wt distance competition at the show. (go to results)
---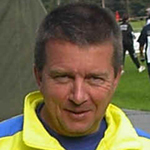 Stockholm, Sweden-
Ulf Janson the President of the International Casting Sport Federation, has passed away at an age of 56 years. He had suffered from cancer the last year. Ulf Janson finished his career as one of casting sports best athletes of all times in the end of the 1980s. From that time on he was in the board of the International Casting Sport Federation. First as a board member and from 1995 to 1999 as Secretary General and from 1999 until today he was the President. The death of Ulf Janson is a big loss for the casting sport through the world. Our thoughts go to his family.-John Seroczynski
Past ICSF President Peter Hessig has been selected to take-over the Presidency following the death of Ulf Janson.- Pete Edwards